How to Create a Marketing Plan that Inspires You.
Episode 017 of the Ideas Architect Podcast.
Our Topic: Marketing Plans That Inspire
We marry the idealism of a manifesto with the practicality of creating your marketing plan. In particular, we explore the nine principles of the Manifesto Manifesto with well-known examples. And, we leave you with a series of powerful questions that you can use to define the foundation of your marketing efforts.
In this Podcast Episode…
The weakness of traditional marketing plans
What is Ideas Marketing?
Four Types of Marketing Plans
The benefits of a Visual Marketing Plan
The power of a Public Marketing Plan
What is a manifesto?
The Manifesto Manifesto – the nine rules for creating your manifesto
The key word that all manifestos begin with
The importance of defining who we are
How JFK focussed the attention of an entire nation
Why having a vision is only half of what you need
Why Martin Luther King's 'I have a Dream' speech was so powerful
How to create your own market
The shift to Community Marketing
The Five Pillars of Wikipedia
Why it's good to have an enemy
Nike's enemy
How to overcome the knowing-doing gap
The rise of the Slow Movement – food, travel, parenting
The importance of action
How to have other people live your idea
Why there are so many cathedrals in Europe
The big idea you can apply in your business from the world's religions
How to start your own country – just like the USA did
How a manifesto can help you earn more money
The secret to Jerry Seinfeld's success
Show Links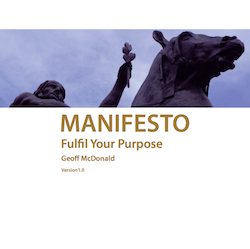 The Manifesto Manifesto ebook
The slide with the key questions from this recording is below to the right.
[threecol_one]

[/threecol_one] [threecol_two_last]

[/threecol_two_last]
Listen, Download, Share…
Podcast: Play in new window | Download | Embed
Subscribe: RSS