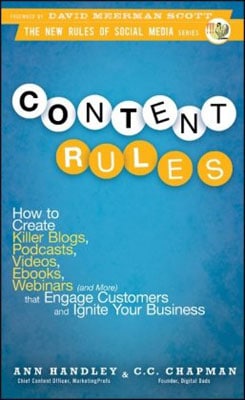 Our fourth post in a series counting down the 10 most influential books I've read this year – 2011.
Ann Handley and CC Chapman: Content Rules: How to create killer blogs, podcasts, videos, ebooks, webinars (and more) that engage customers and ignite your business (Book Website)
Buy Content Rules on Amazon
We previously reviewed this book here so we'll cut to the chase…
Every business needs a content marketing strategy.
This is the best book I've read on content marketing.
It includes tips, tricks and case studies.
It enhanced the quality of the Ideas Marketing webinars so much we even did a Book Rapper version webinar on this book.
Buy it if you're use content to promote, educate and sell your business.
Here's the slideshow from our webinar on this book: Captivate Your Clients With Killer Content – Slideshow.
Number 6 in our Top Ten Most Influential Books 2011: Scott Belsky : Making Ideas Happen
Number 8 in our Top Ten Most Influential Books 2011: Nancy Duarte: Resonate

Buy Content Rules on Amazon