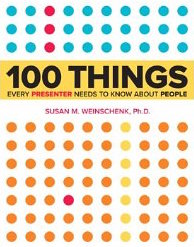 Would you believe this is the third book that I've read called 100 Things! That's pretty amazing really given they are all on completely different topics. The first was about Sebastian Terry's Bucket List and 100 things that he wanted to accomplish in his life. The second was by Dave Bruno who set out to live with only 100 things – a study in minimal living.
And, the third book called 100 Things is by Susan Weinschenk. It's full title tells the full story: 100 Things Every Presenter Needs to Know About People. And there's a 4th book! Previously Susan had written: 100 Things Every Designer Needs to Know About People – so the formula works!
[Tweet "Amazing! Three books all called '100 Things' by @ Seb100Things @guynameddave @thebrainlady #worthreading"]
What's Your 100 Things?
The format of this book is simple – it's essentially 100 one-two page chapters that highlight psychological principles that could be really useful for anyone doing a presentation. It's clear in it's message, well written and leaves you with some takeaways to consider and implement.
The first observation is if you're looking to write your first book, then I highly recommend this approach. All you need to do is identify and source 100 quality things to say about your topic. And, it doesn't need to be 100 Things; it could clearly be any number you like. How about 77 things? Or, perhaps 33 and a half? It's also a great way to write a blog and package that into a book.
[Tweet "An easy way to write a book is The 100 Things format #bookwriting #author"]
Susan Weinschenk
Anybody who goes by the twitter handle @thebrainlady must be pretty smart! And, clearly Susan Weinschenk is. Susan has a PhD in Psychology and has spent more than 30 years applying psychology to the design of communication and online interactions. Whilst, in the past she has blogged and authored about online communication, in this book she's stretching her wings into the related field of presentations. And, when you think about it, whether it's online or face-t0-face the pyschology of working with people is almost the same.
What Do Presenters Need to Know?
Some of the 100 things for presenters that I loved include:
People are driven to create categories – if you don't provide the easy chunks for sorting your ideas your audience will make up their own! Think about that for a moment… is that what you want?
Sustained attention lasts about 10 minutes – the next time you present for 30, 60 or 90 minutes plan for clear 10-minute chunks.
The mind wanders 30% of the time – Phew! I thought that was just me! Whilst you can't fix this, the solution is again to design your presentation in small chunks.
Vision trumps all the senses – Yes, we have learning preferences and the visual trumps them all. Therefore you absolutely need visuals and they need to enhance and reflect your message.
People respond more to anecdotes than data – Sprinkle your presentation with more short stories or anecdotes and less of the data.
People imitate your emotions and feel your feelings – Love this one! It's the brain science behind Gandhi's quite – be the change you want to see.
Fear of loss trumps anticipation of gain – If you want people to take action remember to include what they will lose if they don't take action. If you don't remember this, your presentation may fail as a result. Bam!
[Tweet "#greatread #valuable #practical What Every Presenter Needs to Know About People by @thebrainlady"]
Read This Because…
If you present as part of your work then this book is essential. Consider how your career may be impacted if your next presentation bombs… Ouch! Whilst a few of the 100 things in this book you may already know, I'll bet that you haven't considered at least half of them.