Professional Speaker
A couple of days ago I hinted at making a change in my career direction. One aspect I want to do more of is presenting from stage and earning money as a professional speaker.
I have done my share of public speaking and I've never deliberately pursued presentations as a consistent business activity. I've done probably about 25 gigs, some paid, most not. And, in front of audiences as few as a handful through to my biggest ever crowd of around a thousand people. I've spoken at the two biggest architectural conferences in the world and in four different countries. I'm not quite an absolute beginner and I haven't done a paid gig for at least 12 months so I'm a little rusty. And, I'm a long way from being able to call myself a professional speaker.
Six Secrets to Becoming a Professional Speaker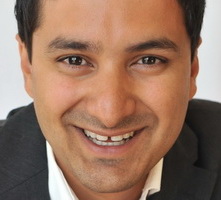 When your radar is up for information you want to learn about you generally find it quickly and in obvious places. I started looking at the websites of a few professional speakers.
One person I checked out is Sam Cawthorn. We spoke with Sam on our podcast here. And, we reviewed his fabulous book here. Sam is probably one of the most successful professional speakers in Australia, and possibly the world, so when he offered Six Helpful Secrets to Becoming a Professional Speaker, I just had to sit up and listen.
[Tweet "Respect the opinion of someone who does it! How to be a Professional #Speaker by @samcawthorn"]
His six secrets, that are clearly not secret anymore, are:
Know Your Niche
Know where you fit in the industry
Know how you're different
Know what others are saying in that space
Find what's missing and position yourself there
Authority Marketing
Put your message out there
Position yourself as an expert
Provide evidence based content
Be confident and credible in your message
Be Faithful with the Small
Start where you're at – even if that is at the beginning
Consistently publish your thoughts
Be in touch with your audience regularly
Build a tribe of fans
Be Consistent
Be consistent with your message
Consistently produce results
And you'll be rewarded
Get Better
Invest in yourself to improve everything you do
Be part of a group heading in a similar message
Keep learning
Packaging
Keep building your idea
Keep turning them into products
Keep building things for the long-term
The Professional Speaker Business
The interesting thing for me was that only one of the six is really about being a good speaker. The other five I would put in the category of building your speaking business. And, I think Sam is a great example of this. Yes, he's brilliant on stage. And, to continue to be brilliant he needs to build the business system around him to attract the right clients and to be able to deliver a great result time after time.
This is a great place for me to start as I build my business and my career as a professional speaker. Love to hear your thoughts about what you think it takes to build a business around being a professional speaker.