Blogging often or not so?
Previously we discussed 'How long should your Blog Posts be?'. And today, we want to discuss a parallel question: How often should I post?
These sorts of questions are important. And, there's no definitive answer to any of them. It all depends on you. For almost all the rules about blogging (and everything else) there are great examples of people who break the rules and are still successful.
One of my strengths is that I'm strategic. As a result, I get concerned when I hear people offer quick tips for what is a strategic question that needs a much broader and ultimately personalised solution. This is one of those situations. So… as per my usual approach I'll offer some guidelines for you to work out what works best for you.
[Tweet "How often should you blog? Nine tips to design your blogging strategy"]
Here's three timeframes to consider for your blogging efforts and three ideas under each that may highlight what'll work for you.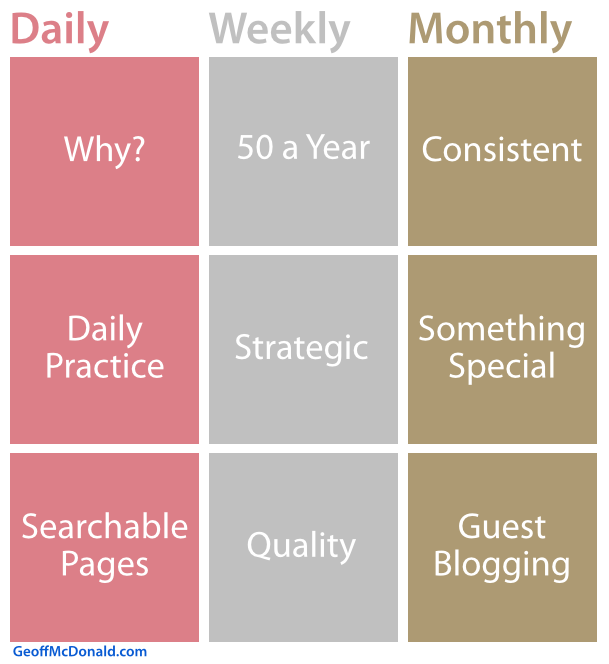 Daily
Why?: If you're new to blogging then writing daily might be a little overwhelming. Or, it might be the great challenge you've been looking for. This depends on your reason for blogging. At the moment, I'm blogging 5-6 times a week and that's because I'm writing material for a book. What's your why?
Daily Practice: If you're serious about your writing and your blogging then creating a daily practice to publish something is a powerful routine. If this is you, I suggest you schedule your time to make sure it gets done. Here's how to do this with some tips from the wonderful Zen Habits blog.
Searchable Pages: When you publish a blog post you're adding one more page to the Google universe. And, one more page for potential people to find you. This will likely lead to more readers in a shorter amount of time. This could be useful if you're just getting started.
Weekly
50 A Year: If you wrote one blog post a week for a year you'd have over 50 posts. And, if these were quality posts of say 500 words, you'd have 25,000 words and the basis for a small book. That's a reasonable amount of output when you think about it like this.
Strategic: Blogging weekly allows your to be more strategic about your content. You can spend the time to research what your readers want and the SEO keywords that they'll find you with.
Quality: The downside of writing everyday is maintaining the quality over time. In contrast, writing weekly gives you more time to massage your message and hit the sweet spot with your readers.
Monthly
Consistent: Ideally, you want to be seen as a consistent producer. This way your audience can have their own routine about consuming your content. The big downside of publishing monthly is that your audience could forget who you are… It's definitely not a path to momentum.
Something Special: If you're blogging once a month you'll have more time to create something special. I'm thinking that if I'm waiting once a month for something then it needs to be worth waiting for.
Guest Blogging: Whilst you might only publish once a month on your blog, you could be blogging for other sites in between. This could be a good strategy to boost your audience. (If you're going to do Guest Blogging then read this first.)
Fits and Starts
For me, my blogging routine goes in fits and starts. I played a game once where I wrote 100 blog posts in 100 days (here's how I did it). At the moment my aim is 300 blog posts for the year. That's 5-6 per week and this is because I'm writing books at the moment. At other times, I've posted once or twice a week. And, I've even had periods where I've stopped blogging for a month or more.
Final Tip: Choose something that works for you. And, remember you can always change your mind, er… I mean you can change your well-thought out strategy later.