To work from anywhere in the world sounds exciting. Your dream might be to live and work in a major city like Paris, Stockholm, or Rio. Or you might want to be as far from a major city as possible – swimming at the beach, skiing or hiking in the mountains or enjoying the solitude of the desert.
While that might be what we ideally want, that is also a big change that might be hard to organise – especially right now. But there is another way. 
In this post, we'll explore 17 ways to work from anywhere in the world – with half of them you can do either today or this week.
Plus, at the end, I'll share the number one thing that you will need to work from anywhere in the world.
The 3 main ways to work from anywhere in the world
Before we jump into the deep end with our 17 ways to work from anywhere in the world, there are three main approaches we need to consider that will help us make sense of everything.
This is important because it will expand our choices for where we might work, plus it will give us options that are available to us right here, right now.  In other words, we can work from anywhere today and not have to wait for weeks, months or years to arrange our ideal scenario.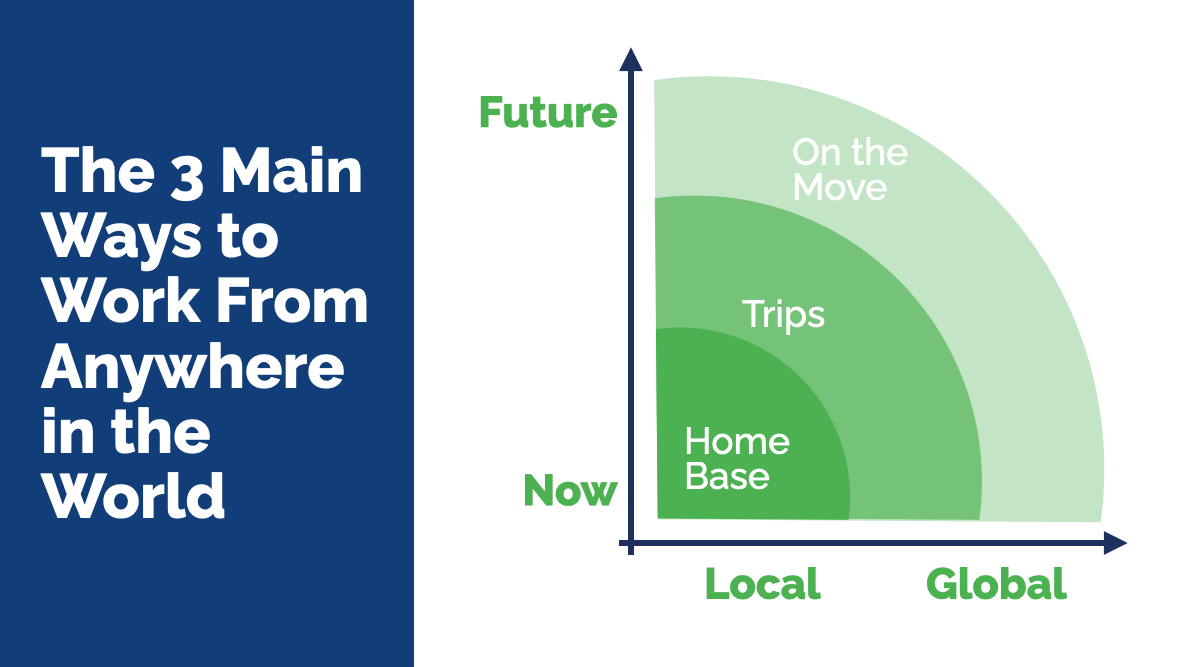 One of the best ways to see these choices is to map them onto a simple graph.
On the vertical axes we have time. At the bottom, we have the immediate ways we can work from anywhere. These require almost no preparation – we can do them now. At the top, we have other activities that we can do in the future that require a little more preparation.
On the horizontal axes we have location. On the left, we have the easy local places to work from and on the right, we have global opportunities.
When we put it all together, we can show the three bands or three main ways we can work from anywhere in the world.
1 Home Base
The first way to work from anywhere in the world is your home base. That's right, literally your current home.
Normally, when we think of anywhere in the world, we think of any place that is not where we currently are. This is a case of the grass always being greener somewhere else. It's worth reminding ourselves that anywhere in the world starts with wherever you are right now. This might even be your ideal place to live and work.
For most of the past decade I have lived in Melbourne. And for most of that time Melbourne was rated as the most liveable city in the world. This means that a lot of people around the world were probably green with envy wanting to live in Melbourne where I was located.
It follows that our first place to work from is our current home. We might stay at home and work, or we might use this as a base to live from while we work elsewhere.
This is what I did for a couple of years working in Melbourne. I was getting bored working at home on my own. Each morning I would put my laptop and phone into my backpack, and I would ride my bike to a different place around Melbourne to work. Effectively, I was working from anywhere in Melbourne and still sleeping in my own bed at night.
This is the perfect way to start working in different locations right now and to find out what works and what doesn't if you are planning on travelling further afield later.
2 Trips
Our second way to work from anywhere in the world is through trips.
If you've ever been on a business trip, then you'll have done this before. Essentially, you pack up your business gear and head off to another location for a couple of days to do your work. This might be an overnight trip, for a week or a few months. And once your trip is over you come back to your home again.
3 On the Move
Our third way to work from anywhere in the world is to do it on the move.
This means that you don't have a regular or permanent home. Instead, you constantly move from one location to another. This is the world of the digital nomad.
The 17 ways to work from anywhere in the world
Now, let's dive into our 17 ways to work from anywhere in the world.
You might like to think of them as a menu of items that you can pick and choose from. Some of them will be obvious, some desirable and some you will say 'no thanks'. Also, you can some fun combining them into your perfect day.
1 Home
This is the obvious one: work at home. This might be new to you or old hat. It might be the place you love working from or perhaps it's become a bit tired and stale.
2 Office
For many people, the office is the one place in the world where they don't want to work.
For me, I have only commuted to an office for about two years in my entire working life so when I do it often feels like a big adventure. But I'm also clear I want this to be a rare event rather than a regular one.  
3 Coworking
As a variation between working at home and working in an office, a coworking space gives you a bit of both. Many people work from home a couple of days and a coworking office space surrounded by colleagues for the other days so they can mix and match quiet and social time.
4 Coffice
A coffice is a coffee shop as an office.
I suggest you view this as a quick visit rather than a long stay. My general rule is that 30 to 60 minutes is the maximum stay on a single cup of coffee. If you want to stay longer, then I feel you should pay the table rent and buy a meal.
Also, I find coffee shops can be noisy so they're a great place to lose yourself in the crowd for the right type of work.
5 Library
For other types of work, where you require some peace and quiet head over to your local library. This might be an alter-ego for a coffee shop.
You will need to test a few locations and even times of day to find out what works best. Some libraries have completely silent rooms others where low-level talking is ok. Plus, their internet speed may vary too.
Also, be aware of the different activities that may be happening in the library at different times. My local library often had kids singing and having fun early in the morning. While this was uplifting to listen to it wasn't a great place to work from and was best avoided.
6 Park
When the weather is right, sitting at a park bench under the trees and in the sunshine can be magical.
Naturally, this will depend upon where you live and what facilities are nearby. Plus, it will bring with it a fresh set of thrills and obstacles. For instance, the sun shining on your laptop or finding a tabletop to work on.
7 Walk and Talk
You might have heard the phrase 'sitting is the new smoking'? It means that sitting all day at your desk is not good for your health.
One of my favourite ways around this for getting both work done and exercise at the same time is to walk and talk. In other words, do your phone calls as you walk. The only thing to consider here is if you must take notes.
I've also experimented with a transcription app like Otter.ai to record ideas and write my books. That works. Plus, rather than creating, you might use it as consumption time to do some learning via podcasts or audiobooks.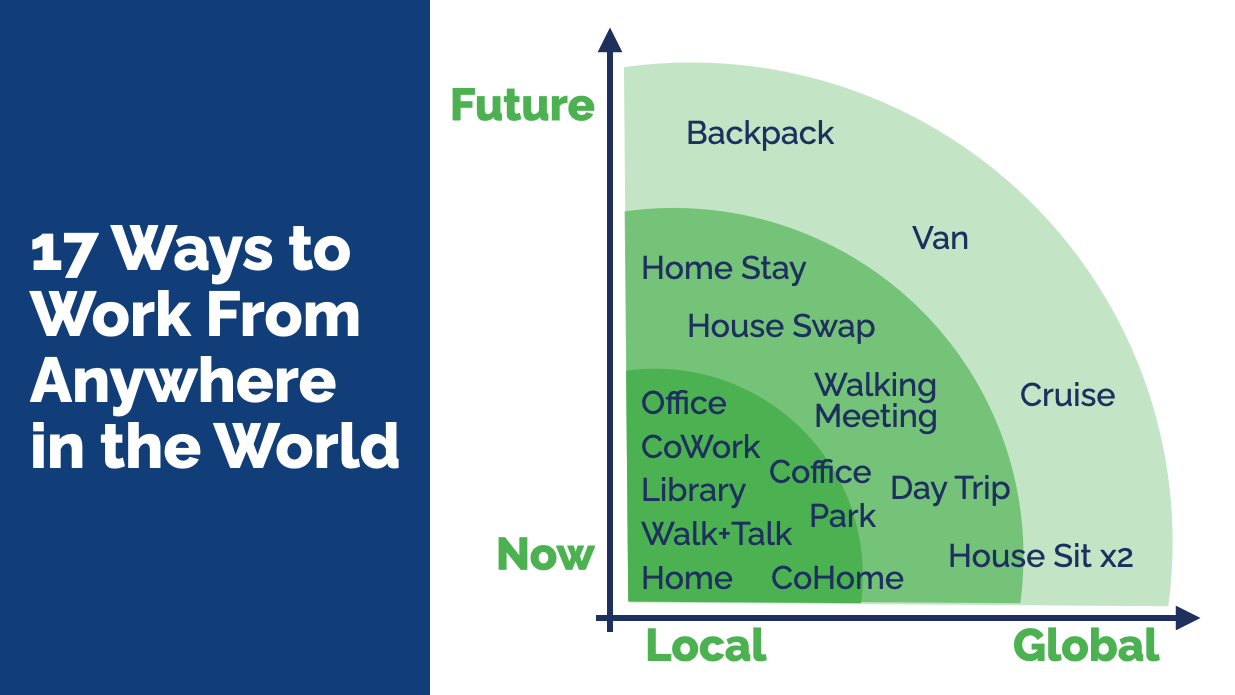 8 Walking Meeting
A good friend of mine does a lot of coaching sessions and whenever possible he has walking meetings. He finds that his clients speak more freely when walking which makes them perfect for tough conversations.
Next time you have a one-on-one meeting consider booking a walk instead of a meeting room.
9 Co-Home
Why work in your home when you can work in someone elses?
At least once a year I head up to Sydney to stay with a friend and work together for a couple of days. Typically, she works in her home-office and I work on the dining table. Then we go for a walk or a coffee or have a chat about what we're up to.
It breaks the boredom of working alone and gives you someone to collaborate with or discuss business.
Do you have a colleague who lives nearby? Like a co-working space you could do this one day or several days a week. 
10 Day Trip
As the old saying goes, 'a change is as good as a holiday'. Rather than work at home, pack your bag and head off for a day trip. This might be a walk, a bike ride or a drive to somewhere different. Then apply some of the other tactics for working in your new location – coffee shop, library, park, walk.  
11 Home Stay
A day trip can then become a multi-day trip with or without your family. This might be an Airbnb stay in someone else's home, a stay at a resort or a hotel or even camping.
This is perfect for quiet time – I've done this for a couple of days in a hotel room to finish writing a book. I've heard that JK Rowling also did this to write parts of her Harry Potter series.  
12 House Swap
A longer version of this might be to do a house-swap for weeks or months. This could be local or international. The great advantage here is that you will likely have all that you need to live and work without having to pay a lot of money to be in a fresh location. Plus, when you're not working you can easily switch into tourist mode and enjoy yourself.
13 House-sit holiday
Like a house-swap you can house-sit for days, weeks or longer. The difference here is that you are living in someone else's home, but no one is living in yours.
14 House-sit on the move
Another version of house-sitting is to do it consistently moving from one location to another.
I did this for over two years around Australia. Usually, this means you are looking after someone's pet, which can be a bonus or an inconvenience. I found most of my house-sits either through friends or through happyhousesitters.com.au – there are other sites in Australia and around the world but I haven't personally used them. 
15 Backpack/Hotel/Camp
Another example of being on the move is to backpack, move between hotels or camp your way around a region or even the world.
The tricky part here is to have enough places to settle into a work pattern compared to constantly uprooting and having to work out a new schedule each time.
16 Van, Caravan
In contrast to living in someone else's place, you can take yours with you and move to a different location as you please with your own van, RV or caravan.
The advantage here is that you can take your house with you which means you can have a few more of your favourite things around you, plus you can sleep in your own bed each night. Given you have this consistent part of your life with you it makes it easier to create a routine to help you do your work.
17 Cruise Ship
The final option is a cruise ship that will go on voyages for weeks or months at a time.
I was looking to do this just before the pandemic hit. I was looking to be a speaker on a cruise ship where I would have to present once a day. In return, I would be given my own room and free food while I travel around the world on the ship.
Naturally, you can also pay to travel on the cruise, too.
The number one thing you need to work from anywhere
Hopefully, you're now really excited about the possibilities of being about to work from anywhere in the world. But before you do, there's one thing you are going to need above all else.
In what I've shared today I'm presuming you have the two essentials:
You have work that you can get paid to do remotely either as a job or in your own business

The tools to make it happen like a laptop, phone and Internet connection.
Above all of that, there is one thing that is going to make or break your experience of working from anywhere to know how to work in any situation. You'll need to learn how to work in noisy places, quiet places, with lousy internet connections, with a laptop on your knees and around travel schedules. Plus, you'll need to learn how to switch on and off work more readily.
The number one skill here is mindfulness – being able to put your attention on the tasks you need to fulfil in a range of situations and locations. The good news is you can start practising this today.
More on how to work from anywhere in the world
For more on Work from Anywhere check out these three related posts: