The Book
Shawn Achor, Beyond Happiness: The 5 hidden keys to achieving success, spreading happiness and sustaining positive change, Crown Business, New York, 2013.
His Previous Book
Shawn Achor's first and previous best selling book, The Happiness Advantage, showed if you want to be successful it pays to be happy before you start. In this state you're more likely to take the actions necessary to reach your desired results. We reviewed his TED video on The Happiness Advantage here.
And, his latest book, Before Happiness, Achor suggests before we can be happy and before we can be successful we need to believe that change is possible.
Three Steps to Success
In a simple way this provides three steps to success.
Be open to the possibility of change and be able to sustain it.
Be happy – this will more likely drive better performance
And, as a result you're more likely to be successful.
[Tweet "Three Steps to Be Successful via @shawnachor"]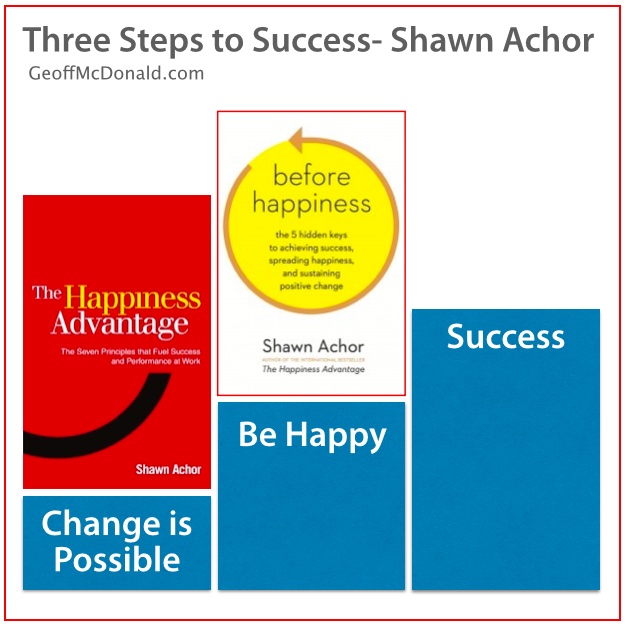 Five Things
So, how do you be open to the possibility of change? Achor suggests five hidden keys.
1 Choose Your Most Valuable Reality
Of all the ways that we can see the world, some are going to be more useful and more effective than others. And, this is the starting point. Choose the reality that best serves you.
2 Map Your Success Route
The key to motivation, energy and happiness is the meaning we make. And, Achor suggests the key to achieving your goals is to highlight the meaning markers in your life. So, before you set any goals, map out what's important to you. And, then adjust your course where necessary.
3 Find Success Accelerants
We all want to reach our goals as quickly as possible, right? Absolutely. And, Achor offers three shortcuts:
Make your goal seem closer by giving yourself a head start and highlighting the progress you have already accomplished rather than the distance to the finish.
Make the target bigger and easier to hit by creating 'champion moments' where you remind yourself of being successful in a similar situation in the past.
Recalculate the energy you need to reach your target. Reduce your worries and count progress in small objective chunks.
4 Cancel the Noise
The whole point of goals is to have more of what we want and less of what we don't want. To reach your goals faster minimize your mental and emotional distractions. For instance, cut your information diet to focus only on what's necessary. And, also amp up the signal by doing exercise to reduce any anxiety.
5 Transfer Your Reality to Others
Once you're on track you can boost your results dramatically by engaging others in your positive reality. Find ways to give away your success habits and lead others in being more successful too.
Who Should Read This…
This is a great book! One of the best I've read in the past 12 months. It's perfect for anyone trying to make something big happen. The philosophy works for both individuals and teams.