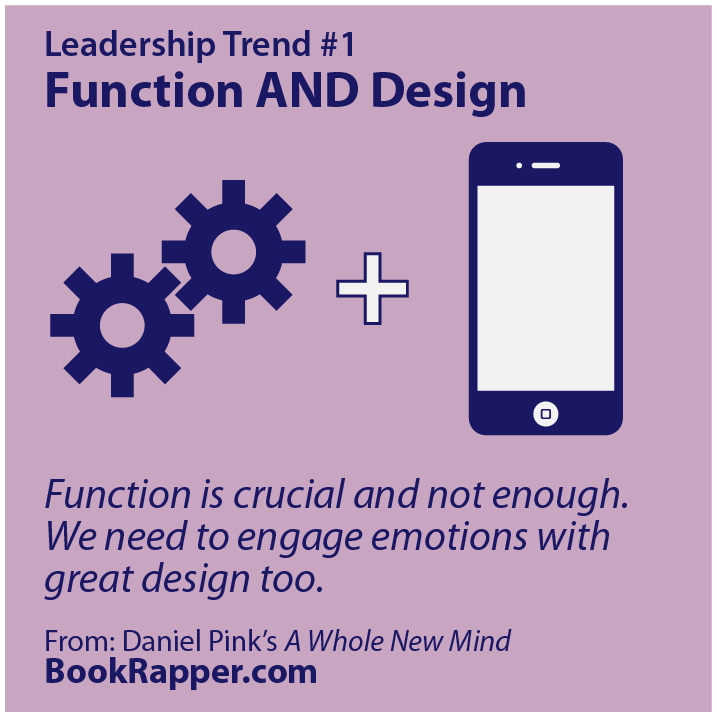 This is the first of six in a series of self-leadership trends adapted from Daniel Pink's book A Whole New Mind.
Products, services and experiences need to be functional. That's presumed. AND, today it's crucial they also be beautifully designed to engage our emotions.
How to be a Designer
Here are five things you can do today to boost your design awareness…
Keep A Design Notebook – Take notes on good and dodgy design – start to notice what is being designed around you!
Design Your Own – Sit down with a designer and design something, like a piece of furniture or your business card.
Visit A Design Museum – Most major cities have them or, better still, take a trip to a world famous one! Think MOMA.
Buy Design – Buy something designer. Start with something special under $45 – design is affordable.
Get A Makeover – Start to relate to yourself as a piece of art and design your appearance. Style speaks.
Five Things to be Better Designer Today #leadershiptrends
Source
This is from the Book Rapper issue How to Think Right that is derived from Daniel Pink's best selling book A Whole New Mind. The full Book Rapper summary is available here.