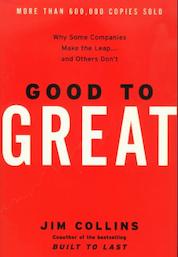 What do you need to focus on to transform your company from good to great? This is the fundamental question that underpins today's book.
Our Topic
This is episode #49 of the Ideas Architect podcast. And, it's a Book Rapper recording derived from an important business book. Today we share the Book Rapper Good to Great summary derived from Jim Collins' best selling book.
In this Podcast Episode
In this podcast episode we talk about:
The three key disciplines to transforming your organization

Why you don't need a charismatic person to lead your organization – and who you need instead
Why it's crucial to select the right team of people even before you choose your destination
A Climate of Truth – The power of confronting the facts as a means to making a series of good decisions.
The three things you need to focus on over time to turn your organization from good to great
Why you need outward discipline rather than inward discipline as your guiding force.
Why a forward moving Flywheel is much better than the backward moving Doom Loop.
How to manage the yin and yang of preserving the core elements whilst stimulate growth.
Show Links
Listen, Download, Share
Podcast: Play in new window | Download | Embed
Subscribe: RSS