Promoting Your Business
How do you best present yourself and your business? Not so long ago we relied on printed brochures – the glossier the better. Then along came the web and we all created our own websites as the be-all and end-all of promotional devices. Not so.
Social media has arrived and this has effectively broken marketing into a lot of little pieces. You now have a bunch of mini-sites and profile pages promoting yourself such as: LinkedIn, Facebook, Twitter, Google Plus, Instagram…
One Page Business
To complement all this, the business brochure lives on! Today it's in electronic form – usually as a pdf. Check out any professional speaker and they'll typically have a 'speakers kit'.
However, as we pointed to previously in our article on the Infographic Resume, recruiters no longer want to wade through pages and pages of words. This has inspired two significant changes:
Less words, more icons and images
Messages are being scaled back to one page
And, the same applies to your business brochures. They also need less words and to be presented as a single page. This is a natural consequence of living in our time-poor world: the rise of the Business Infographic and one-pager.
[Tweet "How to promote your business in a single page #onepagebusiness"]
Business Infographic
I started exploring this recently when a couple of clients asked me to create a one-pager for their business. And, this prompted me to create my own. Here it is… (download it here)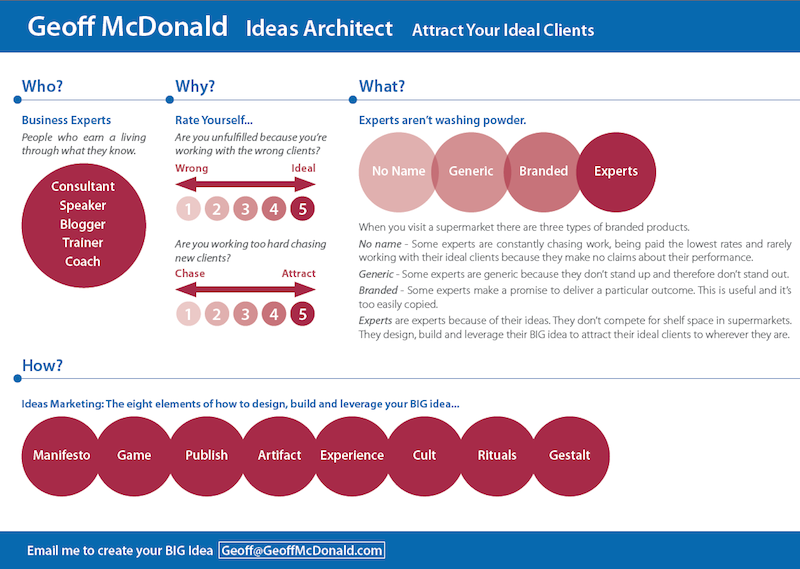 How to Create Your Business Infographic
Here's a list of the key features that I've used and how you can you them to create your one-page business infographic. Notice that I've used a very simple structure of who, why, what and how. I think this would be a good fit for most businesses.
1 Who? Part 1
Who are you and what's this all about?
My title has my name, my business name and a tagline describing the benefit of working with me.
2 Who? Part 2
Who do you work with?
This is a simple statement. It allows the reader to say 'This is for me' or 'not for me'. In my case, 'business expert' is a little vague so I've added some typical examples. Also, given I am talking about working with your 'ideal' clients, it's important that I shared who mine are.
3 Why?
What are the pain points and aspirations of your clients?
For me, they want to work with their ideal clients and they'd rather be doing great work than spending all day chasing it. Notice, that I used questions here and a simple diagnostic tool. I'm not telling the reader what's wrong; I'm asking them to work it out for themselves. The goal here is to create a 'gap' between where they are now and where they would like to be. For instance, 'I only scored a two on both ratings. Perhaps I need to…'
4 What?
What do you do that's different from your competitors?
I used a metaphor. We can all relate to buying groceries in a supermarket and this lets me illustrate how experts need to position themselves apart from the crowd.
5 How?
How do you help people achieve their outcome?
The goal here is to show that you have a unique process or method for producing results. In my case, I needed to show you my BIG idea (Ideas Marketing) and the eight steps for achieving it. Notice that it's a high-level overview. You're not trying to teach someone how in your brochure, you're simply showing your approach in a simple and intriguing way.
6 What's Next?
What do you want the reader to do next?
It's really important to end all of your marketing materials with a call to action. Make it really clear for your readers what the next step is. And, it needs to be a simple, logical and easy step. Don't ask someone to marry you on the first date! Typically, the call to action with be to call, email or go to a website page.
In my example, it's not a great call-to-action. To email me is a little vague. I'd prefer to provide a link on my website where the reader can find out more. I'll add this and update my Business Infographic. Think of this as a landing page. You might include a video, some testimonials and another call to action – for example, call me or email me.
PS: Make sure your contact details are on your page.
If you're interested in having a helping hand to create your business infographic then email me. Alternatively, love to hear your thoughts about and please share what you've created.