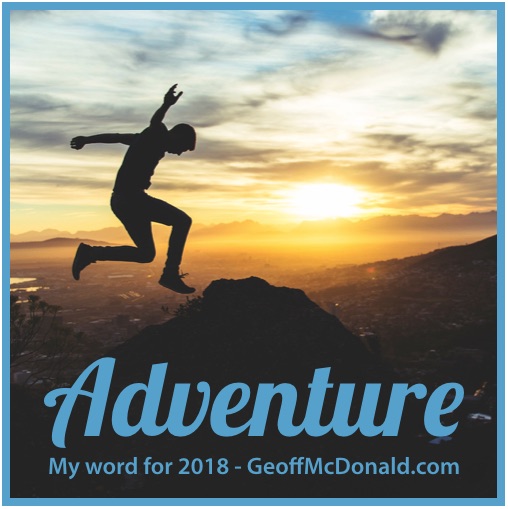 One of my strengths and weaknesses is my ability to create ideas at the drop of a hat. And, even without any hats dropping. I'm naturally a divergent thinker which says I'm both creative and likely to go off on a tangent at any time.
This means I need to work extra hard to stay focused. One of the ways I do that is to create a word for the year. I shared my full process for coming up with my Word For The Year here.
Also, as a visual thinker and designer of ideas I love to turn this into a simple graphic to represent my word for the year. I usually print this out and put this around my workspace to remind and inspire me. Here's my example for the year, plus some words from other people and a couple of graphics I created.
My Word for the Year 2018
My word for the year is: Adventure. The inspiration for this comes from the #2 book on my list of Book of the Year 2017 – Kelly McGonigal's The Upside of the Stress. She suggests that if I reframe the events that occur to me as 'stressful' then I change the way I and my body react – and be healthier as a result. I've given up being stressed and now I have 'adventures'.
[Tweet "#wordfortheyear examples from @janterkelsen @trevoryoung @chrisbrogan @ryanoneilknight @tessnobile"]
Postscript
So how did the word 'adventure' work for me in 2018? Short answer: Huge! It prompted me to move out of the house I'd been renting for ten years and adopt the nomadic and mobile lifestyle of 'house-sitting'. I paid a grand total of $124 accomodation for the entire year lived in more than a dozen places and had some wonderful experiences looking after dogs, cats and even a rabbit. Each time I was drove to a new place, I tapped my steering wheel and said, 'I'm off to another adventure…'
Word for the Year Examples
[threecol_one]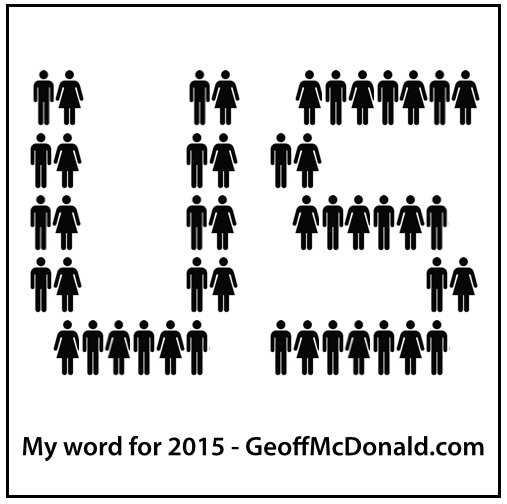 [/threecol_one] [threecol_one]

[/threecol_one] [threecol_one_last]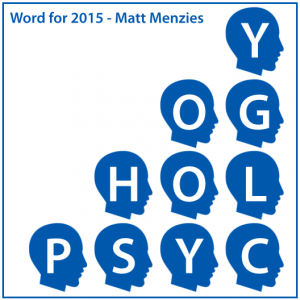 [/threecol_one_last]
My Word
My word for 2015 is 'Us'. Last year I spent too much time being solo man. This year I want to change that to include more people and collaborate more often with others. I was going to choose the word 'we' and given I want to visit some friends in the 'US' this year I thought the double meaning would add a little extra sparkle. Perhaps I can add the stars and stripes to my image too!
Resources
What's your word for the year? And how do you use it to inspire you?