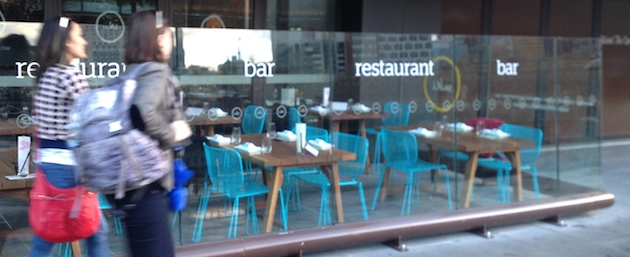 As I write this I'm sitting in a cafe at Federation Square in Melbourne. To get here I've just strolled along Southbank by the Yarra River on a bright sunny day. I was looking for 'the' place to sit and write for an hour or two until my next meeting.
I was particularly interested in seeing a new venue that had just opened. As I approached I noticed they had a 30-metre long glass 'fence' enclosing their outdoor tables. And, on each glass panel were the words 'bar' and 'restaurant'.
What a waste! I kept walking.
Labels for Things
This reminded me of a Gary Larsen cartoon where the main character has painted the words 'shirt, pants, the tree, the house, the door, the cat, the dog' directly onto those things. And, he says "Now! That should clear up a few things around here."
Do you need to print the word 'car' on the bonnet of your automobile to tell yourself or others what it is? Do you need to put 'book' on the cover to tell people it's a… Do you need to treat me like an idiot?
Can you see why I didn't stop for coffee here?
[Tweet "Are you setting yourself up for failure? Why I think this bar got it wrong"]
A Lost Opportunity
So, what could they have done instead? This is a classic case of a business not being able to position it's value.
What I'm highlighting here is not just a lost marketing opportunity. I'm not talking about putting pretty pictures here. I'm not talking about splashing their brand name all over the glass panels. And, I'm not talking about something as practical as putting their menu there either.
Foundation Stone
The answer lies less than 20 steps away. Right next to this cafe/restaurant is a well-known Melbourne bridge. On the side of the bridge is a foundation stone and on it there is a brief story.
It tells you when the foundation stone was laid – 7th September 1886. And it mentions the wife of the Melbourne Lord Mayor of the time as the person who presumably unveiled the stone. Plus the name of the contractor who built the bridge is there also.
Now this may or may not rock your world. And, there is a compelling reason that I'm comparing the foundation stone to the missed opportunity for the cafe.
Why does your business exist?
Imagine if there was a reason the cafe came into existence… obviously there is one otherwise it wouldn't.
Next, imagine if there was a vision of how the owner/creator wanted their cafe to be. I'd argue there is always one of these whenever we start anything.
Then, imagine if there was something special about this cafe that could entice me in… Perhaps it's their signature dish, a spinach pie. Or, perhaps it was the chef who was born in Tangiers, Morocco and learnt to cook from his grandmother.
Or perhaps it was a simple as describing what was previously on that site.
If only they'd told me something about them. Then I could have easily taken a seat and bought a coffee with a sense of pride knowing that I was sitting in a unique location with a unique story. And, maybe if that story was interesting enough I meet even tweet about it and share it with the world. Or maybe, I would be proud to name the cafe in this story rather than being cautious about shaming them and therefore not sharing their name to you right now.
Setting a Context
This is the power of setting a context for your audience. It could mean the difference between the sale of a single cup of coffee. Or, it could mean the difference between eating dinner with two friends there. Or, dare I suggest it… It could be the difference between success or failure, surviving or thriving, bankruptcy or financial freedom.
Simply telling your story might just be enough to encourage some one you don't currently know to become a loyal customer.
Questions for You
If you want to position the value of your what you do then you need to grab every chance you can.
So, what's your story?
Why did your business come into existence?
How can you tell that story in an entertaining way?