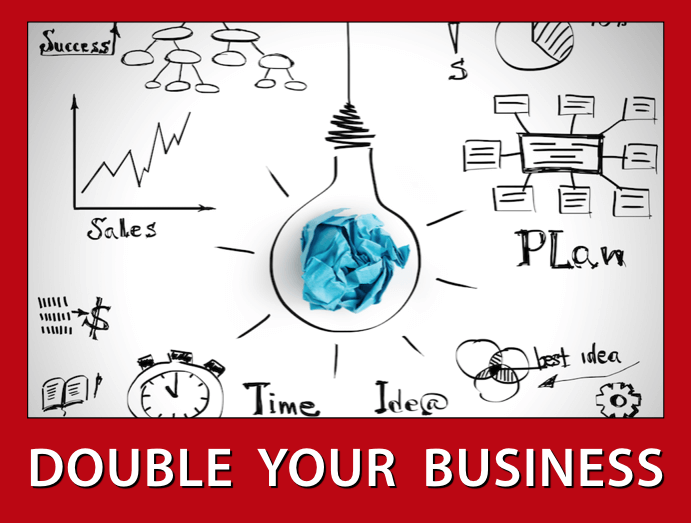 Double Your Business
Small Thinking
Every one of us who runs a business wants it to grow. And, not just by a little. Usually, we want to grow it a lot. Perhaps even to double.
Mostly, we tinker around the edges and hope that our small improvements will amount to something.
The problem with this approach is that even when our small improvements prove successful, they produce only small improvements.
Growth Spurts
Yet, when I look back at how my business has grown over the years a different pattern emerges.
Yes, there are a bunch of small steps and there are also a series of jumps.
For example… I can see where I doubled my Book Rapper business by offering my same material to the same audience in a new way. I was not only able to charge five times more, I also doubled my distribution in an instant.
The Growth Mistake
If you really want to double your business then you need to double your thinking. Or at least think strategically about how to double your business.
The key here is not to try to double your whole business at once. That would be a huge mistake.
There is an old joke: How do you eat an elephant?
The answer is one bite at a time.
Double It Projects
The key to doubling your business is to focus on a single part and double that. Then once you've achieved that, double something else.
In some cases, a single doubling can be achieved in a matter of days or a week. It could be as quick as doubling your prices or forming a partnership with someone you already know.
The tricky part about business is that it's not so obvious which parts to focus on that will double your business.
The solution is to explore a number of different ways that you could double your business through a series of short projects and experiments so you can find out what really works.
Double Your Business Mastermind
And, that's what the Double Your Business Mastermind Program is all about – taking on a series of projects to find out how to double your business.
Over 12 weeks you'll create and fulfil one or more projects to double your business.
Each week we'll focus on a different proven business strategy to give you plenty of choices for achieving your desired result.
Proven Strategies
Some of the things we'll cover include:
Creating powerful projects to sharpen your focus
Create products and services that your customers really want
How to get twice as much done
How to attract your ideal clients
The secret to building a powerful brand
How to get paid premium prices
What to halve to double your business
What is your ideal business model?
How to create your own Purple Cow
How it Works
Double Your Business runs as a mastermind group of ten people. This means you'll instantly expand your business network; gain support and valuable feedback from each other.
Plus, it ensures you receive personalized attention from the experienced facilitator.
The program runs weekly for 12 x 90 minute sessions online.
Your Facilitator
Geoff McDonald is a former architect who presents internationally and is the author of five books. He is a master at distilling big ideas in simple practical ways. Geoff is best known for his book summary service Book Rapper that has been downloaded over 100,000 times.
Investment
Normally, the program will cost $450 plus GST. For this introductory group it is available for $300 plus GST.
That's only $25 per session to double your business.
Early Bird: Register before April 2 and receive a 60-minute one-on-one skype coaching call with me to help you grow your business. (Normally $300)
Dates
Two programs, one 100% online sessions, the other a mix of face-to-face and online sessions to be run in South-East Melbourne.
Online
Wednesday 9am to 10:30am
Dates: April 13 to June 29
Register on Eventbrite: http://double-your-business.eventbrite.com
[button link="http://double-your-business.eventbrite.com" bg_color="#f05d0e" window="yes"]Register Now[/button]
Face-to-face and Virtual
Beach Lane, 642 Nepean Highway, Carrum
Friday 11:00 to 12:30pm
Dates: April 15 to July 1
Register on Eventbrite
Free One Hour Introductory Presentation
Saturday, 2 April, 1:30pm to 2:30pm
Beach Lane – 642 Nepean Highway, Carrum, VIC
[button link="https://www.eventbrite.com.au/e/double-your-business-with-geoff-mcdonald-tickets-23124790872″ bg_color="#f05d0e" window="yes"]Register Now[/button]