Content Creation
One of the best ways to attract new customers to your website and your business is through Content Marketing. Essentially, you share something of value to your potential audience. If you add enough value over time, some of these people may become your clients. To make this happen you have to be in the content creation game. Here we provide four easy ways for you to create and share content.
1 Create
The first and most obvious source of content creation is to do it yourself. Here's four ways to create your content:
Write it
Speak it
Draw/Design it
Record it
2 Curate
Our second way of content creation is to curate it from other sources. A very simple example is to retweet someone else's tweet or a Facebook like. In this case you don't create the content, you merely select it and by posting it on your timeline you highlight it for others to see. Think of your role as being the curator of an art exhibition or the editor of a magazine – you get to choose what's in your show or in your magazine.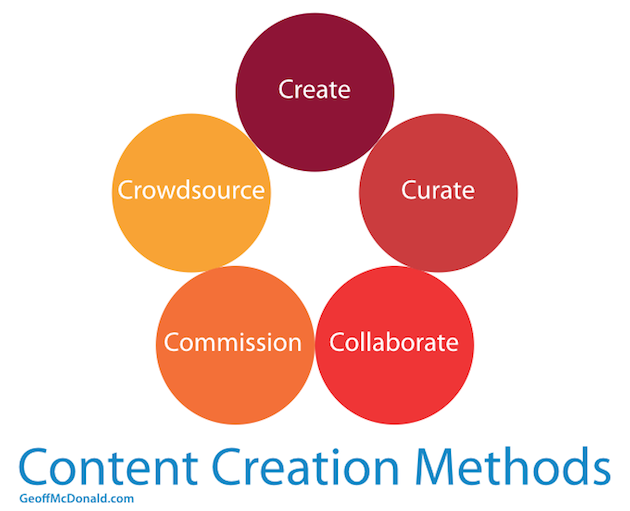 Beware of copying written content from other sites. Google will penalise you for this. A better way to do this is to copy selected comments and then supplement this by adding your own. Ready and available content for embedding on your blog is via YouTube, TED or Slideshare. If you want to enhance your reputation as a thought leader then add a comment, an insight or your spin on the content. Don't just repeat someone else's message.
Sources:
3 Commission
Our third way of content creation is to get someone else to create it for you. They can create some or all of your content piece. You might plan the product and then to greater or lesser degrees have some create it for you. For instance, you might create an outline for an ebook and employ a writer to put all the words together. You might create a wireframe of your mobile app and have someone else code it. Or, you might voice record your ebook and have someone transcribe it into a written format.
Some Out-sources:
[Tweet "The Five Cs of Content Creation: Create, Commission, Curate, Collaborate and Crowdsource"]
4 Collaborate
Our fourth way of content creation is… instead of doing it all alone or hiring someone to do it for you, your next alternative is to work in partnership with another individual or a group of people. This could be as simple as interviewing someone for a podcast or as complex as running a joint project.
Examples
Interviews
Projects
Event recordings
Joint Events
Co-author a book
5 Crowdsource
Our fifth way of content creation is to use the crowd or our audience to create the content for us. This could be as simple as running a competition and inviting people to provide a photo, video or infographic to win a cool prize. Another way is to interact with your audience in a Facebook Group or online forum – simply ask and answer questions.
Examples
Competitions
Linked In or Facebook Group
Online Forum
Invite blog comments and respond to them
Ask a question as a Tweet
And now to demonstrate… I'd love to hear how you're creating content. Leave a comment below or on our Facebook page.