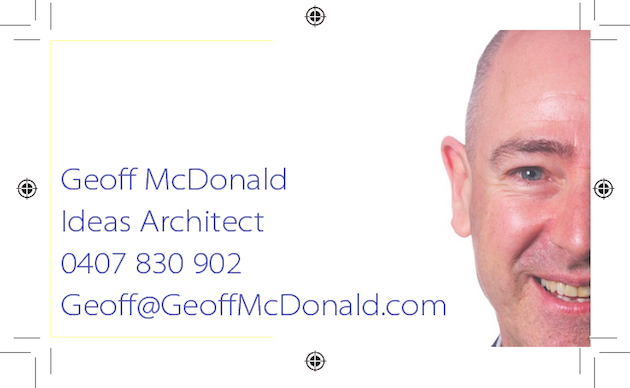 Why I haven't bothered with Business Cards
Ah Business cards! They are one of the essential promotional tools every professional needs in their bag. Well, not quite. Personally, I haven't used them for almost two years.
There are two main reasons I haven't bothered with business cards:
Most of my work comes from referrals and this usually means that my contact details have already been passed on from the referrer.
I don't go to many networking events. More on this below.
Do you have business cards? And, why? Here are what I consider to be the pros and cons of having business cards.
1 Social Custom
One of the less than obvious reason we all have business cards is that we all have business cards. It's a social expectation! When you meet someone you're expected to hand one over to forward contact and conversation. It can create an awkward silence when this expectation is not met.
Q: Would you be willing to say "I don't do business cards?" What impression does this spark?
2 Contact Details
In our world of social media, the importance of sharing contact details is less crucial than it was before. It can be enough to simply say 'Let's connect on LinkedIn' or 'My twitter handle is Ideas Architect'. And, as long as you remember the other person's name you can easily find each other.
Q: If you didn't have business cards how would you connect with people?
[Tweet "Do you really need business cards? #businesscards"]
3 Networking Events
I don't go to a lot of networking events primarily because I don't enjoy them and I don't gain a lot of value from them. In my cynical opinion, mostly they occur as a lot of people handing out business cards after meaningless conversations that will never lead to anything. And, all that results is more inbox spam after being put on someone else's mailing list without my permission. And to me, that's a guaranteed business relationship killer!
Q: When do you hand out your business cards? To everyone you meet or selectively?
4 Branding
I believe one of the most important reasons to have business cards is for branding purposes. If done well it sets up a positive first impression about your style, design sense and personality. If your visual brand is not important to you then perhaps you don't need cards. Further, if your business cards are a design disaster then you might be better off not handing them out.
Q: What impression are your business cards presenting?
5 It's an Artifact
Most business cards are simple and functional. They're a simple piece of card with your contact details printed on them. Efficient, effective, job done! What if this was a missed opportunity? What if the purpose of your business card was bigger than this? One of the core elements of Ideas Marketing is to create artifacts or tools that enable people to do more of something more easily. This is taking our previous point on branding a whole step further. The idea here is to presence your idea. For instance, if your mission is to spark ideas (hey that's me!) then perhaps this could be as simple as putting a tip for doing this on your card. Or, perhaps if your message was to inspire nature your business card could include a seed to be planted.
Q: What's your big idea? And, how can you use your business card to bring this alive?
[Tweet "How can you use your #businesscards to bring your #bigidea to life?"]
COMMENT: How do you use business cards in your business? Add a comment below.