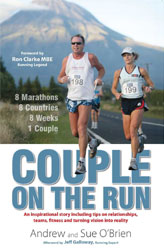 At the Ideas Lunch today, our presenters were Andrew and Sue O'Brien, also known as the Couple on the Run. They presented a mini-blueprint on how to be a micro-celebrity.
A micro-celebrity sits between being a legend in your own mind and being stalked by the paparazzi. Whilst you're well known in your own niche, it's also safe to walk the streets without being mobbed.
The 'Couple on the Run' are now approaching micro-celebrity status in their niche of marathon running as a couple. This is evidenced by their extensive online following and the emerging requests to attend and present at marathons around the world.
How did they become micro-celebrities?
Contrary to wishful thinking, it didn't just happen. It wasn't a case of run a few marathons, meet a few people, get lucky and strike it rich.
Eight Principles For Becoming a Micro-Celebrity
Here's eight principles that I observed from their presentation for you to become a micro-celebrity:
Be True to Your Values : As their motto suggests, "Together they have gone further." True to their key idea around Partnerunning, they have worked methodically and consistently as a couple to fulfil their plan.
It's a Passion AND a Business : It's not enough to be passionate about something. You also have to have the business and organisational structure around that passion over time. Andrew's a former CEO so he brings a lot of business nous to their running venture.
Play Long Term : The O'Briens have been working at for 4-5 years. And, they're just starting to get the rewards they wanted. Plus, they've done a lot of promotional work that was clearly not going to earn immediate dollars.
Create an Achievement : Having a stunning achievement to hang their hat on gave them credibility for their audience to take notice and listen. The Couple on the Run ran 8 marathons in 8 different countries in 8 weeks – as a couple. And, they wrote a book about it.
Do Media, Don't Rely On It : Whilst they achieved some good media results including TV in Australia and the US, plus extensive newspaper coverage, this did not directly lead to their 'lucky break'. Instead, this simply build more credibility and presence in the marketplace. Useful, not essential.
The Tighter Your Focus The Better : As for many of us, Andrew admitted things moved a lot faster the more tightly they focussed on a niche.
Keep Asking, 'What do you need?': A customer focus and solving their problems has been a central key to their success.
Learn what you need : The O'Brien's had no knowledge of publishing before they self-published their book. This took a lot of research to fulfil. Similarly, they've learnt by trial and error to be effective at Social Media. Be a learner to move your passion forward.
To find out more about the Couple on the Run, visit their Facebook page and follow them on Twitter.