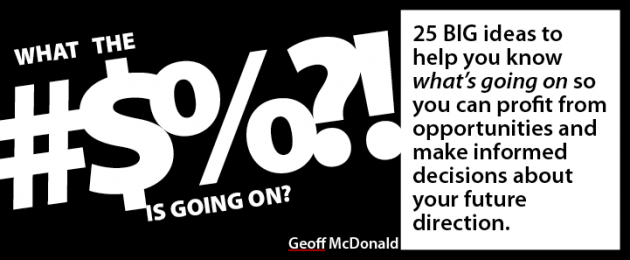 What the #$%?! is going on?
Are the old ways of doing things no longer working?
Are you under threat from rising global competition and new technology?
Are you looking for opportunities to profit from our digital world?
Geoff McDonald's latest book is provocatively called What the #$%?! Is Going On because this is the battle cry of our generation. It's both a proclamation of anxiety that we don't know what's going on. And, it's a statement of opportunity of the turbulent times in which we live. It's been written as fuel for those in business who want to lead the way, for those who want to explore new opportunities and for those who want to make informed business decisions. It's also for those people who want a first level of defence against disruption from direct competitors, previously anonymous global players and seemingly unrelated technologies.
Listen to excerpts from the book in our podcast episode one here and episode two here.
Contact us to discuss how you can profit from these BIG ideas in your organisation.