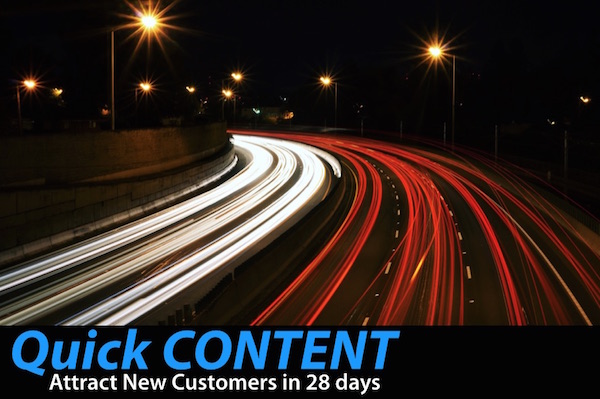 Quick Content: Attract new customers in 28 days
Content Marketing is the new way to attract customers. By posting great content that solves specific problems you position yourself as a trusted expert. And, this leads to sales.
The downside of creating great content is that it can be time-consuming. And, the results may take time to trickle in.
This program will help you create content quickly, easily and powerfully to make an immediate impact. It's designed to boost your leads and attract new customers in the next 28 days.
Key Ideas
Power strategies you need to use include:
The most important thing about content creation
The case for slower content
The Content Speed Test
17 ways to create content
The super secret to quick content
The Ace, King and Queen of content creation
Top down and bottom-up content creation
The essential elements of a quick content action plan
Outcomes
In this program you will:
Take immediate action – you will create, publish and promote content
Get better results faster through valuable feedback
Sharpen your focus by defining what when and how to produce content
Get more done with less effort by working in your your personal content strength area
Format
This is a live workshop using webinar technology.
It is run as 4 x 90 minute sessions over 4 weeks.
All sessions will be recorded.
And you will have access to the recordings, the slides, course manual, checklists and templates.
Register Now
Fee
Introductory Half Price – To celebrate this is the first of a series of new courses we are creating we're offering this at half price. The full price will be $197 and for this one only, it's $97.
Limited – A maximum of ten people will be in the program to ensure you receive personalised attention.
Note –  Unless there is high demand for future courses, this program will be run as a one-off and then available as a DIY online course.
Dates
Thursday 9-10:30am Melbourne time
October 8, 15, 22, 29
Your Presenter
Geoff McDonald is a content machine. He has published 956 blog posts, written 5 books, released 84 podcast episodes, created 55 e-books, run 28 webinars and shared 50 slideshows. His Book Rapper content has been downloaded over 75,000 times and has been syndicated to over 15 different audiences.
Register Now
Register at Eventbrite: http://quickcontent.eventbrite.com